By Tyler Hetu thetu@thesunchronicle.comSep 9, 2022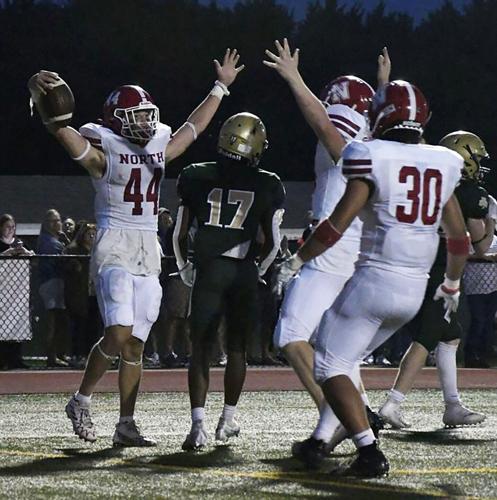 ATTLEBORO — Playing to a packed house at Bishop Feehan High's McGrath Stadium Friday night, the North Attleboro High football team earned head coach Mike Strachan his first win at the Rocketeers' helm in a dominating 28-6 win over the rival Shamrocks.
A 1986 graduate of North Attleboro High, the return was emotional for Strachan as he was backed by his home crowd all night, but he was quick to credit his team on playing strong wire-to-wire against a talented Feehan squad.
"I'm so proud of the kids today," Strachan said. "I think we dominated at the line of scrimmage. They've got a good team, there's talent all over the place. I'm just proud of these kids."
Bishop Feehan head coach Bryan Pinabell wanted to quickly wipe the slate clean following the disappointing showing and work hard over the next few days to make sure the Shamrocks find themselves in the win column.
"We're getting in the film room (Saturday) morning and look at what we did wrong," Pinabell said. "Turn the page, and move on to next week. You've got to do that with this game. You can't dwell on one game or one loss, you've got to work to get better. This game is over now, and we're going to move on."
Both sides traded three-and-outs to open the contest, but a failed snap on a Bishop Feehan punt attempt led to the Shamrocks falling on the ball on their own 35-yard line, resulting in a turnover on downs.
With a short field to work with, it onlly took two plays for the Rocketeers to find paydirt. Following a false start, North Attleobro's Nathan Shultz broke loose for a 27-yard score to put North ahead with 8:22 left in the first quarter and the extra point made it 7-0.
Just eight minutes later, the Shamrocks again saw Shultz get past them for a score on a 41-yard touchdown scamper with Shultz shedding tacklers to put North ahead 14-0 with 39 seconds left in the first quarter.
It took until the 3:44 mark of the second quarter for Bishop Feehan to answer. An interception on Feehan's own 2-yard line by Danny Fasy on a Chase Frisoli pass gave Feehan a long field to score.
It only took two plays for the Shamrocks to get on the board though, with a 16-yard run from Dante Bruschi followed by an 82-yard scoring run from Nick Yanchuk, who bounced off a few tacklers to find the end zone.
With the extra point blocked, Feehan still had work to do ahead of halftime, down 14-6.
Neither side scored until 2:02 in the third quarter, when Greg Berthiaume took off for a 22-yard score, tumbling into the end zone as he extended the Rocketeers' lead to 21-6.
North Attleboro's success in running the ball was by design, said Strachan, who pointed to the senior leadership up front to help create openings for the running backs. Even with the lead growing, the Rocketeers didn't shy away from going back to the ground and going right at the Shamrocks' defense.
"They ran right at us, and that's credit to their line of scrimmage," Pinabell said. "I give them a lot of credit. They were very physical tonight and credit to their staff."
The nail in the coffin came at 4:35 in the fourth quarter. With Feehan's offense struggling, North trotted down the field for a 55-yard scoring drive that ended with a Frisoli keeper from a yard out.
Across the board it was North Attleboro's night. Bishop Feehan recorded only two first downs throughout the first half. The Rocketeers blocked an extra point, picked off a pass (Julian House) and applied pressure on Feehan quarterback Niko Iovieno all night.
"I think our defense played great and our offense settled down and got great performances from Shultz and Berthiaume," Strachan said. "The senior class in general was phenomenal. I think our defense was ready and was focused."
While a loss in the season opener is never ideal, Pinabell said there is room for improvement.
"I told the kids after the game that this won't define our season," Pinabell said. "We're going to come back tomorrow and get better. Credit to them, they did a great job at the line of scrimmage and played hard."